** Schedule **
For 2013
How to get to UK SEE- http://www.uky.edu/ThisIsUK/visitorcenter/directionsweekends.htm
The schedule is as follows:
FRIDAY, March 1, 2013
4:30-9:00PM
Check in and setup in Student Ballroom (map). Bring Safety forms filled out and ready for signing by Safety committee. There will not be sufficient time to register on Saturday morning as our volunteers are doing other things then. (Limestone Parking lot on Limestone is NOT available Friday evening. Parking available in nearby open lots (map).

SATURDAY, March 2, 2013
Park in Structure on South Limestone across S. Limestone from the Student Center. We paid for it, so we should use it.

8:00-8:15AM Judges arrive, breakfast, check list of projects
8:00-9:00AM Registration and setup in Student Ballroom for those who did not do this Friday evening. Bring Safety forms filled out and ready for signing by Safety Committee. Check the posted list for Projects registered on Friday for Safety issues that need to be evaluated to resolve potential problems.

9:00-9:30AM Project review by Safety and Display Committee (students not present)

9:00AM Students and parents may obtain breakfast at the Student Center Food Court, across Limestone (Starbucks is open in the Food Court) or local restaurants*

9:15-10:00 AM Judges examine displays (Students are not present.)

10:00AM-12:45PM Judging (Students need to be at their posters).

1:00PM Lunchtime for parents and students who have been judged. Those not yet judged should stay by their posters. Parents may bring students lunch to students who have not been judged. Mid-morning chips and water are provided to students.
.............................THE STUDENT CENTER FOOD COURT IS NOT OPEN FOR LUNCH.
Chick-Fil-A might be open in the food court. They said they would open for the Science fair events so ....maybe.
Other options are listed below.

.............................*McDonald's 357 S. Limestone, Arby's 507 S. Limestone.
...................The Coliseum Plaza is about a block East of the Student Center on the NW corner of Avenue of Champions (Euclid) and Rose Street. .............................It contains several eateries: Bangkok House (Thai food), Blimpie, and Campus Café.
.............................About 50 ft. West of the Coliseum Plaza are Papa John's Pizza and Qdoba Mexican Grill.
1:00-2:00PM Judges meet for award selection
2:00-4:00PM Displays open to public

4:30-5:45PM Parents and students should be at the Awards Ceremony (Inside the student center: Worsham theater?)

5:45-6:30PM Project removal by students and parents

7:00 PM STUDENT BALLROOM is locked up. Parking garage will close for entry.
STUDENT CENTER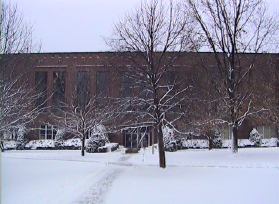 (Avenue of Champions view)
(On the corner of 'Avenue of Champions' or 'Euclid Avenue' AND South Limestone). We hope for good weather.